With over 100 years of continuous operation, our leadership and our ability to evolve has proven to be our most valuable assets.  The reins of the company have been passed from Father to Son for 4 generations, From Charlie Herlihy to Ed Wall, to current President, Larry Wall, and someday – to Larry's son, Ryan.   Each generation brings new methods, new knowledge, and new life to the company.
Company beginnings date back to 1919 with the incorporation of the Herlihy MidContinent Company by Charles Herlihy, current president Lawrence Wall's grandfather, and Ed Wall's father-in-law.   The Herlihy Company made a name for themselves in downtown Chicago with Ed Wall as Vice President and General Superintendant.  Ed cut his teeth on the heavy construction industry during the 1940's.  Ed's experience on projects integral to the modern-day success and navigability of Chicago's streets, bridges, and waterways include:
Construction of the original upper and lower Wacker drives
Underground structures for the Metropolitan Sanitary District
Shore Protection for Chicago's River Locks System
Main Lake Michigan Entrance to the Chicago River (S. of Navy Pier)
Intake structures and shore protection for the Filtered Water plant at 78th and Lake Shore
Charles Herlihy, 2nd from the right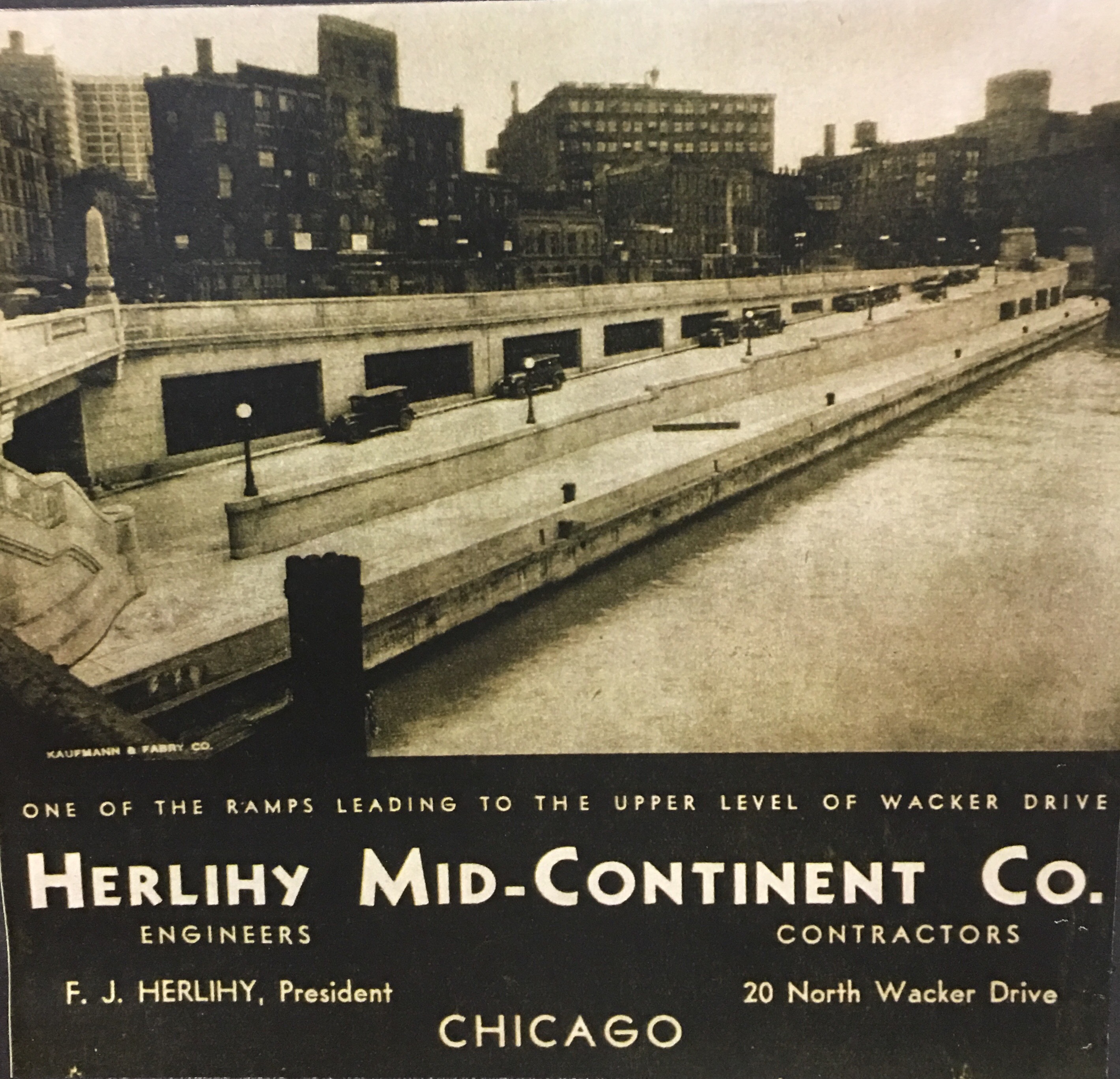 Current  President, Larry Wall, began as a laborer for his grandfather, Charles, and his father, Ed, in 1974 while he was on summer break from college.  One of Larry's first experiences working for the family company was the control chambers and lift stations for the Chicago Deep Tunnel and Reservoir and Flood Control  Project.
In 1978, Ed Wall parted ways with Herlihy and formed his own company, E.L. Wall of Illinois, located at 2929 S Wabash in Chicago.  Our involvement in heavy construction continued with successful projects such as:
Underground connecting structures for the Metropolitan Sanitary District of Chicago
Bridge widening and drainage structures for the Illinois State Highway Toll Authority
Routes 53 & 55 for Illinois Department of Transportation
Ed and Larry expanded their vision and began seeking commercial projects as well – The Tre-Con Corporation's new offices in a vintage warehouse, Cable Room improvements for Illinois Bell among others.
In 1981, Ed and Larry were "tired of fighting the Dan Ryan" every morning and moved the company to 3100 Moore Road in Michigan City.  The name was changed to E. L. Wall of Indiana and quickly made a name for the new company with site improvements to Purdue North Central, Plant additions to the Stanley Knight and Ashland Chemical Company, and building renovations for the Town if Long Beach.
With the location change, the focus of our work began to change.  Our past experience lent itself well to new applications as we evolved from heavy industrial, state, and government contracts to sea wall construction and erosion control for commercial clients and home owners along Lake Michigan.   New applications of our skills opened the door for E.L Wall of Indiana to pursue projects of interest to Ed and Larry, such as building restoration projects (none as near to our hearts as our current office) and residential construction in addition to our established commercial portfolio.
We quickly developed a trusted reputation for beautiful restoration projects as evidenced by:
Creekwood Inn
The Vail Estate
710 Franklin St
Our Commercial Successes continued into the 1980's and 90's with the Marquette Mall updates, the Ruby (Chamber of Commerce) Building, the Marina Park Condominium  Conversions, Bethlehem Steel, Dwyer, and Sullair updates, and various updates and new construction at Lighthouse Outlet Mall.
We moved to our current offices in 1986 and have continued to build upon our outstanding reputation with numerous residential projects.  Current President, Larry Wall, has led our company since 2006 and transformed L.Wall Constructors into the well-rounded Design/Build firm we are today.   We have spent 100 years building our great reputation through quality work and will continue to evolve to best serve the needs of our clients.